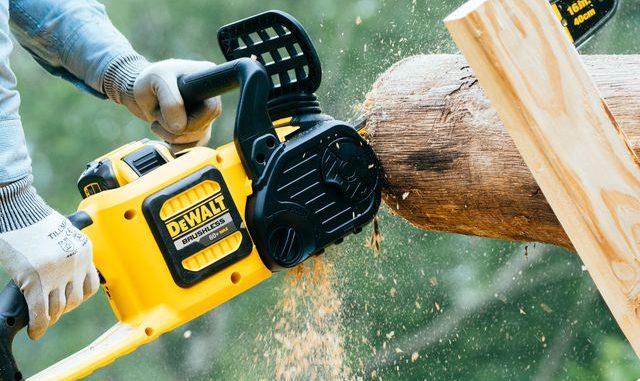 Chainsaws are the most popular garden tool. This powerful cutting machine helps to prepare firewoods and other garden tasks. We can categorize them into three classes- gas-powered, battery-powered and electric. Each kind has its own benefits and drawbacks. Let's discuss why you should purchase a cordless electric model and when you should not.
The reasons to buy a cordless electric chainsaw: One of the Best Cordless Electric Chainsaw can offer you the following advantages.
 Easy to use: A cordless electric saw eliminates all drawbacks of a gas-powered version. You don't need to worry about mixing gas and oil properly and refilling the container. They don't feature any built-in gas engine. So, they are very light. You can grab, hold, and move them with minimum effort. They are suitable for both skilled users and beginners.
 Portability: As they don't have an electric cord, they won't restrict your working limit. Due to the incredible maneuverability, you can reach hardly-reachable branches conveniently.
 Safety: Working with a gas motor for a long time may result in headaches and hearing problems. When it comes to a cordless one, say goodbye to such issues. Unlike gas-powered devices, they can be either noiseless or slightly noisy. The users don't have to use any hearing protection to prevent hearing loss. They are ergonomic and lightweight. Even after working the whole day, you will hardly get arm fatigue.
 Performance: Modern cordless electric chainsaws are as powerful as the gas chainsaws. You can make precise cuts within a few seconds. But not all tools fulfill this need. We strongly recommend checking the power and capacity before purchasing.
 Environment-friendly: Nothing can be better than doing your work without hurting nature. These chainsaws won't produce gasoline fume, which is a significant threat to humans, animals, and nature. Most of them come with rechargeable batteries. Therefore, you can use the batteries again and again. It doesn't only reduce the maintenance cost, but also saves the environment.
 Cost: Many people have a small budget but need to maintain their gardens regularly. A cordless electric saw is an ideal option for them. Cordless electric chainsaws usually come at a reasonable price. But the price may vary according to the brand, material, power, and capacity. If you want a more powerful device of the same brand, you have to pay more.
When you should not buy a cordless electric chainsaw
 Less powerful: If you want to take down lots of large trees, go for gas version instead of any other models. Though they are noisy and heavy, they will provide the quickest and deep cuts. Only a few powerful cordless electric chainsaw can do such tasks. Most of them are not capable of enduring so much pressure to cut a large tree.
 Battery dependency: The performance of such saws relies on the battery. The users have to recharge the batteries timely. When working with a gas version, you can quickly check the remaining amount of gasoline. But the majority of the cordless saws won't allow you to see the remaining charge. Your machine can stop working at any moment.