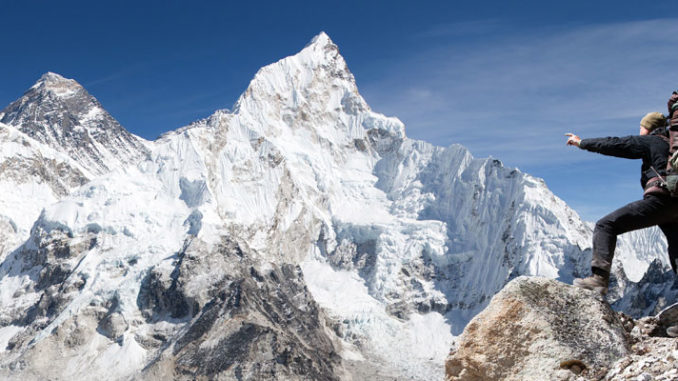 Exploring the beauty of Everest is one of the best things that you can do during your upcoming holidays. The amazing country of Nepal has so many things to offer of you, and one of them is Everest Base Camp Tour. What makes this tour option a great set of alternatives to look into is the fact that there is something for everyone here – whether you're an adventurer, or someone who is simply looking to have a great time. Everest Base Camp tour is definitely for you.
Everest Mountain Flight
Mountain Flight is one of the best ways to explore the beauty of Everest. Despite the fact that it is considered a form of Everest Base Camp Tour, during the journey, you don't get to visit the Everest Base Camp. As a matter of fact, you don't even get to enter the Everest Region during the trip. Mountain flight allows you to enjoy the bird's eye view of Everest, as you're in the flight safely seated throughout the journey. The plane flies at a distance of around 10 km away from the mountains, and it is during this time that you get to view the mountains. Whatever the case, you can be rest assured about loving the views of these spectacular giants. A regular mountain flight lasts for a duration of one hour. It starts early in the morning, and it allows you to enjoy the early morning views of the dazzling mountains. Towards the end of the journey, the tourists are offered an experience certificate and a complimentary glass of branded champagne.
Everest Helicopter Tour
Helicopter tour is probably the best Everest Base Camp tour option out there, as it doesn't just allow you to enjoy the views of the mountains of the Everest region from the air, but also from the ground. You make your way all the way from the airport to the Everest Base Camp in a helicopter, and on the way, the helicopter stops at multiple locations. It stops for refueling purposes, but you can use this time to your advantage by exploring around the area. Generally, helicopter tours are 5 to 6 hours long, but you can modify your trekking journey to have a couple of days long helicopter ride. This way, you get the best of both worlds. Helicopter tour is the ideal one for those individuals who don't have the required time and energy, but who are still looking to enjoy the views of Everest and other major mountains in the Everest Region. If you're one of them, or even if you're not, you should definitely go for a helicopter tour on the route.
Trekking
If you're looking to explore the hills and mountains in the Everest region, there is no better way to do it than going for a trek. There are different modes of trekking that you can opt. You can go for solo trekking if you're an extreme adventurer and have quite some experience. You can go for camp trek, where you spend your nights in camps, or tea-house trek, where you spend your nights in comfortable tea-houses. Whatever the option, you will absolutely love trekking here. Trekking doesn't just allow you to view the natural spectacles found in the region. It also allows you to get close to them, live among them and be a part of them. Trekking is a kind of journey that connects you to the route. This Everest Base Camp Tour option consists of Everest Base Camp Trek package, Everest Gokyo Lake trek package, Everest Three High Pass trek package, and many more. All these trips take you to Everest Base Camp and numerous other interesting places to visit on the route.
Everest Expedition
Expedition is a kind of Everest Base Camp tour that is exclusive to only a limited group of individuals. Not everyone can go for this journey. To be able to climb Mount Everest, you need to pay a huge sum of money to the Nepal Government, and on top of that, you also need to have a considerable amount of experience in the field. Altogether, Everest Expedition is a 60+ days long journey, and during this time, the alpinists climb the mountain for a duration of 45 days. The rest of the time is spent either acclimatizing or trekking. Everest Base Camp trek that covers the route between Lukla and the base camp is an important part of the entire journey. The trek doesn't just allow the climbers to cover the said distance, but also helps their body acclimatize to the brutal environment. It is a dream for every climber from around the world to one day reach the top of Mount Everest. If you're a mountaineer, you should definitely try it.
Luxury Tour
You can add flavors or colors to your regular trek in the Everest region by going on a luxury tour. Generally, on a luxury tour, the trekkers get to spend their time at the most luxurious of places, and have the most amazing food items. There's support staff to carry your stuff and cater to your needs. If you have a kid, well, you don't have to worry about them. You can hire a porter to carry them to desired destinations. One of the major elements of any luxury tour is the culture that you can explore in these regions. The villages that you cover during the trek are homes to Sherpas, a tribe of people ethnic to Nepal. You will absolutely love interacting with them, and getting to know their way of life. If you're not that obsessed with luxury, you can have your travel company arrange your stay in their homes. This way you get to experience their lifestyle first hand. There is no limitation to how interesting you can make your Everest Base Camp tour.
If you're a travel enthusiast but have never tried Everest Base Camp tour, well, you definitely should. A great deal of fun and adventure awaits you within the hills of Nepal in the Everest region. You can be rest assured about having a wonderful time during the trip.