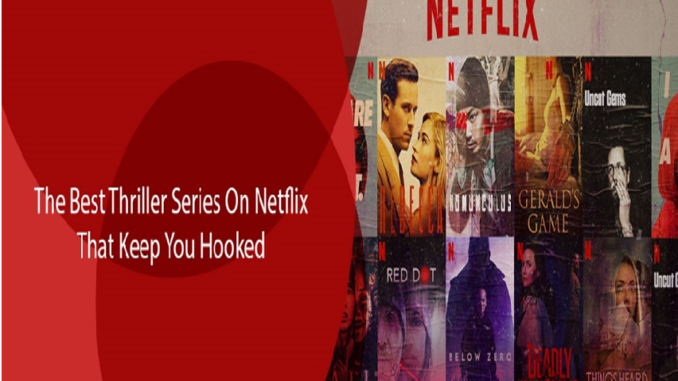 Thriller is by far one of the most favored genres in TV shows right now. The exciting premises, suspenseful cliffhangers, and mind-blowing revelations all come together to give you an experience you can't find in any other category of series.
Netflix is home to some of the most popular thriller shows released in the past couple of years. The genre suits the streaming service as viewers generally don't have to wait a week after a cliffhanger to watch the next episode—as is the case with Disney+ and HBO Max.
In this article, we cover some of the best thriller TV on Netflix in our opinion. We include fan favorites such as You and Squid Game as well as some underappreciated gems that you must watch if you haven't already. So without further ado, let's get started.
You (2018 – Present)
You is one of those shows where you can't tell whether you're supposed to love the protagonist or be disgusted by them. Centered around the dangerously charming personality of Joseph "Joe" Goldberg, the show follows the young man as he stalks and seeks affection from whoever he's obsessed with at the time.
You takes no time diving right into the action. You get hooked on the show from the very first episode, eager to see what Joe will do next. Each episode builds on the excitement of the last and you find yourself either praying he doesn't do away with his next victim or hoping he gets away with his last one.
Netflix recently released the second part of the fourth season of You, which has had everyone talking about the show. You has been able to keep audiences engaged by adapting fresh scenarios each season, with Season 4 drifting quite a lot from the Caroline Kepnes' novels the show is based on. Right now is the best time to start watching You if you haven't already.
Squid Game (2021 – Present)
There may not be such a thing as a "perfect" thriller series, but Squid Game comes pretty darn close. With thought-provoking social commentary, brutally suspenseful storylines, and a jaw-dropping finale, it's easy to see why the series was an instant hit worldwide.
The show follows a struggling middle-aged protagonist who gets invited to play children's games at an undisclosed location for a chance to win a handsome reward. The catch is, if you lose, you die. Only the winner gets to live and go home with the money.
The premise may not sound very unique on the surface, but the show has many layers with a higher level of sophistication than what first meets the eye. Squid Game Season 2 is expected to release near the end of 2023 or at the start of 2024. You can watch Season 1 now and catch up!
Alice in Borderland (2020 – 2022)
Many fans discovered Alice in Borderland while searching for thriller shows like Squid Game. The show has a very similar premise—the protagonist and his two friends get instantly teleported to an emptied-out version of Tokyo where they must play various games to survive. However, as viewers discover shortly, the games are the only aspect Alice in Borderland shares with Squid Game.
The show follows Arisu (Alice) and other survivors as they compete in games and attempt to get back to their home world. The series features non-stop action, witty puzzles, drama, and existential dread as Arisu seeks the answer to, "why are we here?"
The story comes to a satisfying end with the second season. The manga that Alice is Borderland is based on also ends at this point in the story. However, some fans suspect the possibility that Netflix may renew the series for a third season. Regardless, Alice is Borderland is an astounding thriller series that's definitely worth a watch.
The Watcher (2022 – Present)
At a first glance, The Watcher looks like just another haunted house series set in a suburb in America. However, unlike haunted shows, the series is based on a real story and doesn't have any supernatural element to it.
The Watcher is able to scare the audiences like a horror movie would, except everything in the show is actually plausible and can happen to any one of us. This makes The Watcher far scarier than horror shows for many, especially those of us who don't believe in ghosts.
Netflix has renewed the series for a second season, but the release date hasn't been confirmed yet. The Watcher is an absolute gem on Netflix that deserves a watch.
Watch The Way It's Meant To Be Watched
The best way to enjoy a thriller is to immerse yourself in the show by streaming in the highest resolution that your Netflix plan allows. But if you have a slow internet connection, you may not be getting the image quality you're paying for.
We recommend upgrading to Grande Internet via buytvinternetphone.com. Grande is an Astound Broadband company that is exclusive to Texas, offering high-speed internet at highly competitive rates. Visit buytvinternetphone.com to learn more.