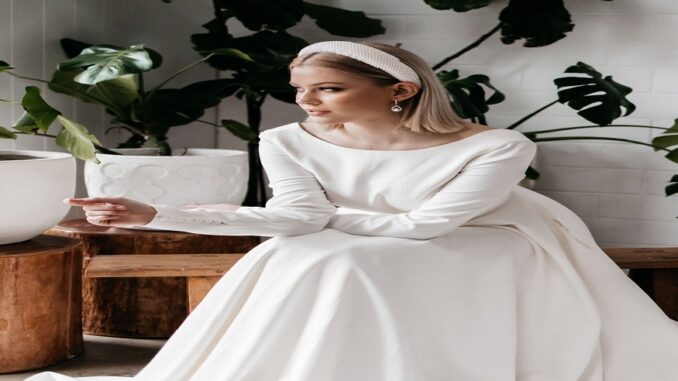 Weddings in the winter season can be just as beautiful and romantic as those during any other time of the year. If you're planning a winter wedding, you'll want to find the perfect dress that helps you look elegant and stay warm at the same time.
Luckily, there are plenty of dreamy winter wedding dresses available for brides to choose from. From long-sleeved gowns to faux fur wraps and everything in between, here is our selection of some of the best options out there. Read on to find out more!
Types of Winter Wedding Dresses
Long-Sleeved Gowns
When it comes to winter wedding dresses, there are several types of gowns to choose from. Long-sleeved gowns have become increasingly popular for winter weddings, as they provide an elegant look while also keeping you warm and comfortable.
These gowns typically feature delicate detailing such as lace or beading around the neckline and sleeves, giving them a romantic touch. They usually come in lighter colors like ivory or champagne and can be made of heavier fabrics such as velvet or satin that will keep you warm throughout the evening.
Faux Fur Wraps
Another option is faux fur wraps and boleros. These pieces are a fun way to add some texture and warmth to your outfit without going overboard. Faux fur is incredibly soft and cozy, making it a great choice for a winter wedding.
You can find wraps in many different colors, from white and cream to bolder shades like pink and blue. They also come in various styles so you can find one that fits your look perfectly.
Embellished Jackets and Boleros
Finally, there are embellished jackets and boleros. These pieces are often quite ornate, with intricate beading and embroidery that will make you shine on your special day. They come in both cropped and full-length options, depending on how much coverage you want.
For added glamor, choose an embellished jacket or bolero in gold or silver hues that will match your dress perfectly.
Tips for Choosing the Perfect Dress
When choosing your winter wedding dress, there are a few tips you should keep in mind.
First, be sure to consider the weather and temperature of the day. If it's going to be very cold, you may want to opt for a long-sleeved gown or faux fur wrap that will keep you warm throughout the night.
You should also think about how comfortable you'll feel in the dress – make sure it fits properly and isn't too restrictive.
Finally, consider your personal style and what type of look you're going for. If you love sparkles, choose an embellished bolero or jacket to glam up your ensemble.
Conclusion
There are so many beautiful winter wedding dresses to choose from, so finding the perfect one for your special day should be a breeze. Whether you opt for a long-sleeved gown, faux fur wrap, or embellished jacket or bolero, you can look elegant and stay warm all night long.
With these tips in mind, you'll be sure to find the perfect dress that will make you shine on your big day!