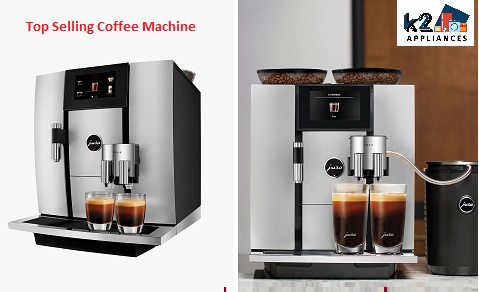 "Coffee-Crown With Rich Golden Crema"
The aroma of coffee works as a power booster. Its taste is truly unforgettable, a perfect shot of divine lingering taste adds happiness in our lives. A single cup of coffee can linger for hours. Coffee is a perfect blend of taste and flavors but espresso is a foundation of every coffee. It is a full-bodied, smooth, and extremely creamy drink.
Coffee-Survival Drink In Winters
In chilly winters, a hot shot of coffee is just like heaven. The perfect cup of coffee helps us to escape from the trap of cozy winters. Get tired of drinking coffee from coffee shops? Want to have homemade delicious coffee? The solution is one step away-Espresso machine.
What is the Espresso machine?
Espresso machine brews coffee beans by pressurizing water. It brews nearly on boiling point with the help of "puck" of ground coffee. It starts filtering to produce thick coffee known as espresso.
"Traditionally Handcrafted & Technologically Filtered"
The espresso machine serves a variety of coffees such as cappuccino, lattes  & macchiatos. The art of making coffee gets enhanced with the espresso machine. The espresso machine works with a special blend of coffee beans, roasted beans.
How to use an espresso machine?
There are 8 basic steps in making a tasty shot of coffee
 STEP  1- Plugin espresso machine to the power source
The initial step in all espresso machine is to plugging to the power cable. All the espresso machines are electronic device so they need power sources to operate.
STEP 2-Fill water in an espresso machine
There are inbuilt water reservoirs in the espresso machine. Almost coffee makers have a top opening for water. Water is important for cooling espresso machines.  The best espresso machine accepts fresh, cold, filtered water to prepare coffee.
STEP 3- Switch on an espresso machine
You should start your coffee making by switching on the power source. Then give time to heat up the machine. Heating will boil the water that is used for making coffee. When you feel that the machine gets warm, you can start your espresso-making process.
STEP 4-Grind coffee beans
Place the roasted coffee beans in the coffee grinder. Collect the grind coffee powder in your portafilter or container. Make sure the coffee beans are properly grounded. You can proceed to the next step after getting smooth coffee powder.
STEP 5-Leveling and filling the portafilter
You don't require any kitchen appliances in this step. You can use your fingers to set the level of grind coffee powder by removing excess powder in the machine. In this stage, you will knock the portafilter on your hand by filling available air pockets. Make sure that portafilter is ready to brim and no air pocket is left.
STEP 6-Tampering of Coffee powder
With the help of tamper try slightly force on the coffee powder that is there in the portafilter. You need to check excess coffee powder present on the walls of the tamper. Knock gently the coffee powder to move in the center. Continue this process in your best espresso machine, until all the coffee powder gets compressed.
STEP 7-Brewing Espresso
In this step, you need to place portafilter back to its group head in the espresso maker. Place a cup( known as portafilter valves) at the opening of the portafilter.
Time to start the brewing process, by using the start button. According to your requirement, turn on the right button for a single or double espresso.
STEP 8-Turn off your espresso machine
When you have ready coffee in your cup, do turn off the machine. Plug it out from the power.
The market is flooded with a variety of espresso machine.No worries!  we have enlisted list of top 5 machines
Top 5 brands of Espresso Machine
1)Nespresso KrupsInissia White Coffee Machine
This coffee pod facilitates easy ejection of espresso. It uses a preheating time of 25 seconds and uses compact brewing unit technology. It is well-identified as the best espresso machine, with a 19 bar high-pressure pump.
Pros
Easy to operate
Excellent for our pocket
Instant espresso in the cup
2 Morphy Richards New Europa 800-Watt Espresso and Cappuccino 4-Cup Coffee Maker
A semi-automatic Espresso and Cappuccino Maker. It makes our coffee making, an enjoyable activity. It comes with two ultimate features, stream-control knob, and coffee-strength selector. It has the capacity to prepare 4 cups at one time.
Pros
Affordable appliance with an energy-saving feature.
Great performance of the appliance.
Full control over the cup you make.
3) Nespresso by Krups XN760B40 New Citiz and Milk Coffee Machine
The highlight feature of this machine is that you can decide the strength of coffee. This machine has a pre-heating time of 25 seconds. It is one of the popular automatic espresso machines. You can prepare hot or cold coffee in this espresso machine.
Pros
Easy programmable Espresso machine.
Prepare hot and cold coffee.
Energy-saving feature.
4) Nespresso DelonghiLattisma Touch Automatic Coffee Machine
At the touch of a button, get delicious coffee. It is one of the reliable products with a high-pressure pump and ideal heat control system. Easy cleaning makes this appliance, best option for the Indian kitchen. It comes with energy-saving mode.
Pros
Integrated milk function for espresso lovers.
Espresso machine with sufficient water capacity.
Convenient appliance.
5) Prestige PCMD 1.0 Coffee Maker
A perfect machine for Indian household as it prepares 4 cups of hot coffee at one go. You can see the level of coffee decoction with the help of a designed carafe. You can manage the strength of brewing coffee as per your taste.
Pros
Handy device.
Water level indicator.
Design glass carafe.
Final thought
Time to bless your 2020 with the best espresso machine. One Little cup of coffee gives warmth to survive in cozy winters. Want to know more about espresso machine and their features, do communicate with experts at K2 Appliances, your information partner. An only platform that gives reliable and genuine inside stories of home and kitchen appliances.